Positions on Transport, Technology, Innovation


Change of year, change of generations

A turbulent year is drawing to a close. Time to pause, take a look back and dare to look forward.


When we prepared the cover story about the world's longest railway line for Level X No. 6 at the beginning of February, the world was a completely different place for all of us. No one could have guessed that a few weeks later a train ride through Moscow would be as out of reach as a flight into space. But as challenging as the past months were, the year also showed its good sides: For the first time since the outbreak of the pandemic, Innotrans took place again in September, an important venue for exchange. And soon after, our 200th railway crossing in Gleisdorf went into operation for Steiermärkische Landesbahnen. Now, towards the end of the year, we are looking forward to the sales partnership with STRAIL, whose products complement our portfolio perfectly.
And in the coming year we want to devote ourselves entirely to the future topic of the industry: Digitisation has taken hold of all areas of our lives. We at EBE Solutions have been dealing with this for some time and have suitable solutions and interfaces for an increasingly networked world on offer. But I will tell you about this separately in a new mini-series in the coming issues of Level X.

For this issue, as always, I hope you enjoy reading it, wish you a reflective Advent season, happy holidays with your loved ones and a good start into a successful year 2023.

Geschäftsführer Dipl.-Ing. (FH) Laurenz Trunner, MBA
und das Team der EBE Solutions



p>
Railway crossing with level crossing system by Strail

EBE Solutions takes over representation of STRAIL in Austria


As of 1 January 2023, EBE Solutions will become the new, exclusive sales partner of KRAIBURG STRAIL GmbH & Co. KG for Austria and thus expands the portfolio in the field of railway crossings.

The future sales and contact person at EBE Solutions will be Wolfgang Gutmann, himself a proven industry expert with many years of experience in the railway industry. In order to ensure an optimal transition for all STRAIL customers, Gutmann has been in intensive contact with the previous contact person, Alfred Wilhelm, who will retire at the end of the year. Incidentally, this is already the second time that Wilhelm has done so, as he already retired from ÖBB 11 years ago and subsequently devoted himself to setting up his engineering office. With the takeover of the STRAIL agendas, EBE Solutions now combines its many years of experience on the Austrian market with the innovative products of STRAIL.

Your contact person: Wolfgang Gutmann
Tel: + 43 1 865 76 00
Mobile: +43 664 857 25 38
Mail: This email address is being protected from spambots. You need JavaScript enabled to view it.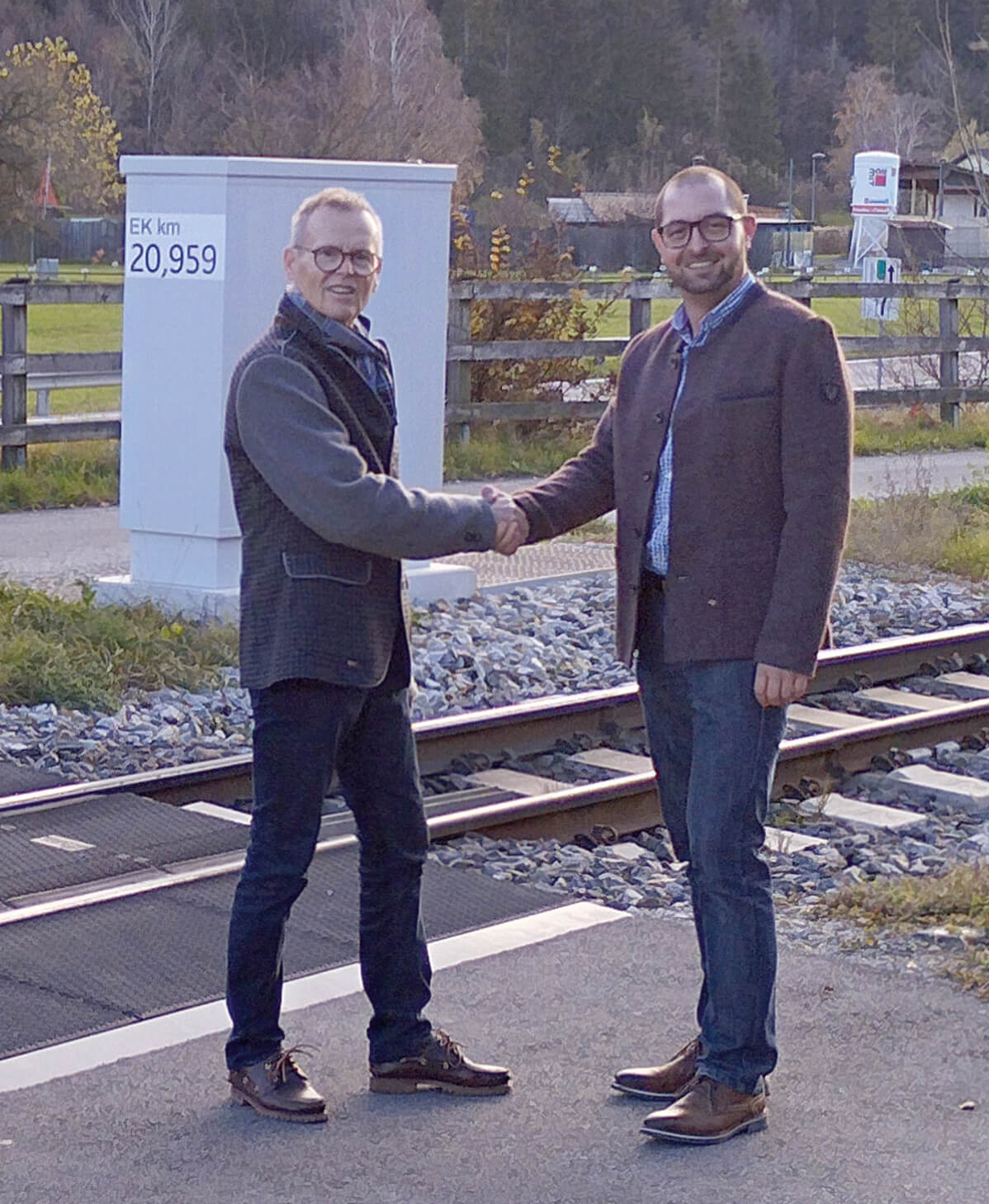 Alfred Wilhelm and his successor Wolfgang Gutmann
Briefly questioned

On the occasion of his farewell to the industry, we asked Alfred Wilhelm for a short review:


Were there any special moments or projects that you like to think back on?

Alfred Wilhelm: A special project was, for example, the installation of the railway crossing in Vienna Brigittenau / EK km 0.505: 3 tracks, switch, arch, rapid transit, protection of the rails against rusting...

What is so special about Strail?

Alfred Wilhelm: What is special about Strail is the open and honest communication between the different management levels with the will to improve products, to promote new developments and to fulfil customer wishes 100 %. The social interaction within the company is also special. The managing director sits at the table with the workers at lunch. A special feature of their products is the environmentally friendly use of waste (old car tyres) which are used for the production of the Strail panels. For traffic participants, the product gives back a pleasant and safe passability. The Velo Strail system offers a unique solution for people in wheelchairs.
What were the last months like in the cooperation with EBE?

Alfred Wilhelm: The cooperation with EBE Solutions began as early as 2003 in the context of research projects with ÖBB and has developed into a close cooperation since 2011 with the founding of Ingenieurbüro Wilhelm GmbH. This now ends with the handover and integration of the Strail product catalogue.

You are now retiring for the second time: Is that really it?

Alfred Wilhelm: The topic of railway crossings has accompanied me since I joined ÖBB in 1975. Since 1988, it has been my life as head of a group at ÖBB. Railway crossings moved into my professional focus and became a vocation that will probably accompany me for the rest of my life. Especially the development in the digital age is becoming more and more rapid and offers possibilities that were previously unthinkable. That's it for me professionally, but of course I will continue to observe the development and gladly pass on my experiences.
Alpine scenery in the Miniatur Wunderland, © Miniatur Wunderland Hamburg

Where (not only) children's eyes light up
Small worlds–great amazement

They show the miniature world of railways and have been a marvel for generations: model railway displays have lost none of their appeal even in modern times.


An astonishing number of them can be found in the DACH region (list available online). We present four with an Austrian connection that are open at Christmas time. Maybe an idea for a trip during the Xmas holidays?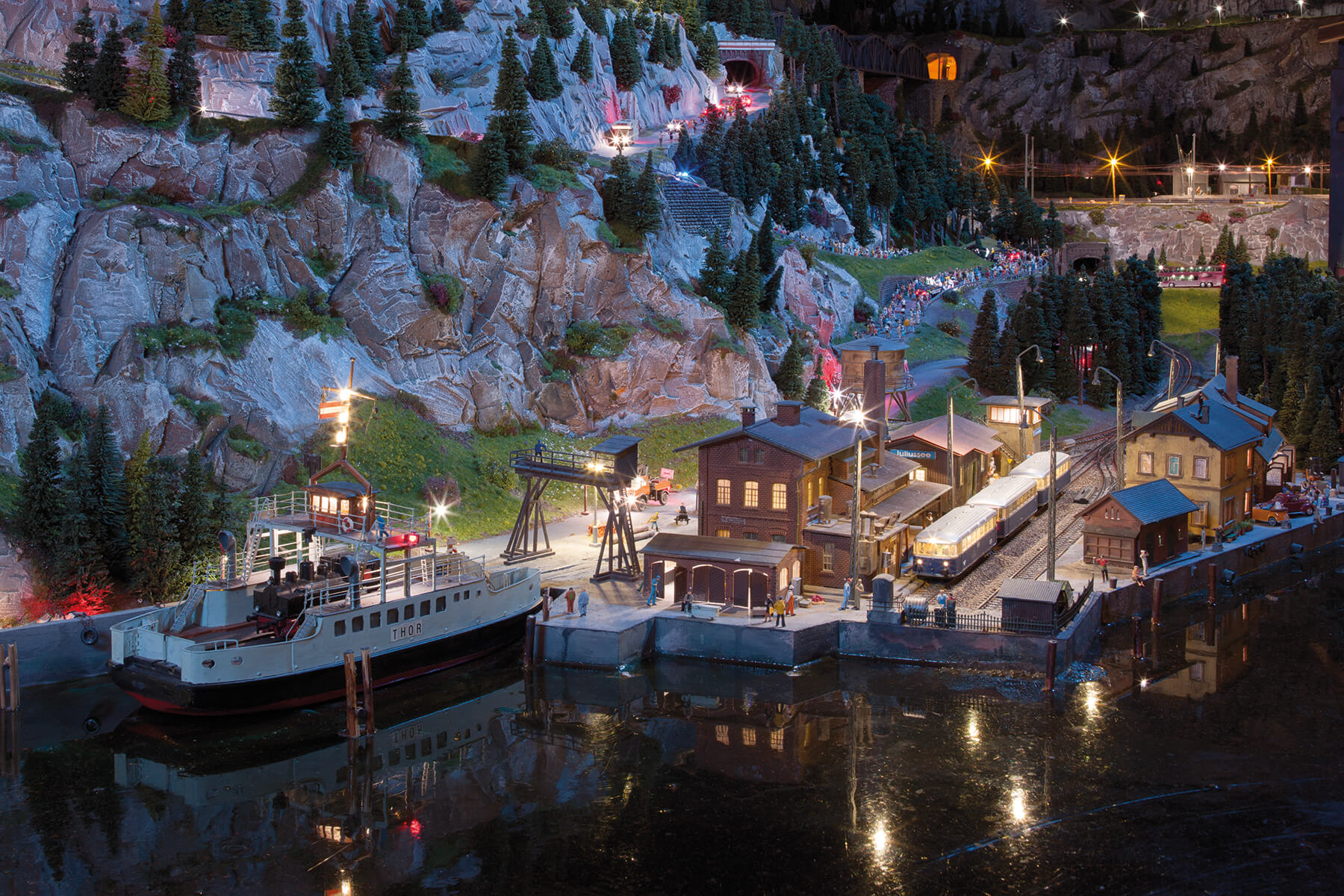 © Miniatur Wunderland Hamburg
Miniatur Wunderland Hamburg

It is considered the world's largest model railway: the Miniatur Wunderland Hamburg is a superlative attraction with a model area of 1,545 m² and has been voted Germany's most popular attraction three times in a row. The Austrian themed world on 60 m² has been part of the attraction from the very beginning.

daily (365 days): 09:00 – 19:30
Info: miniatur-wunderland.de, reservations recommended!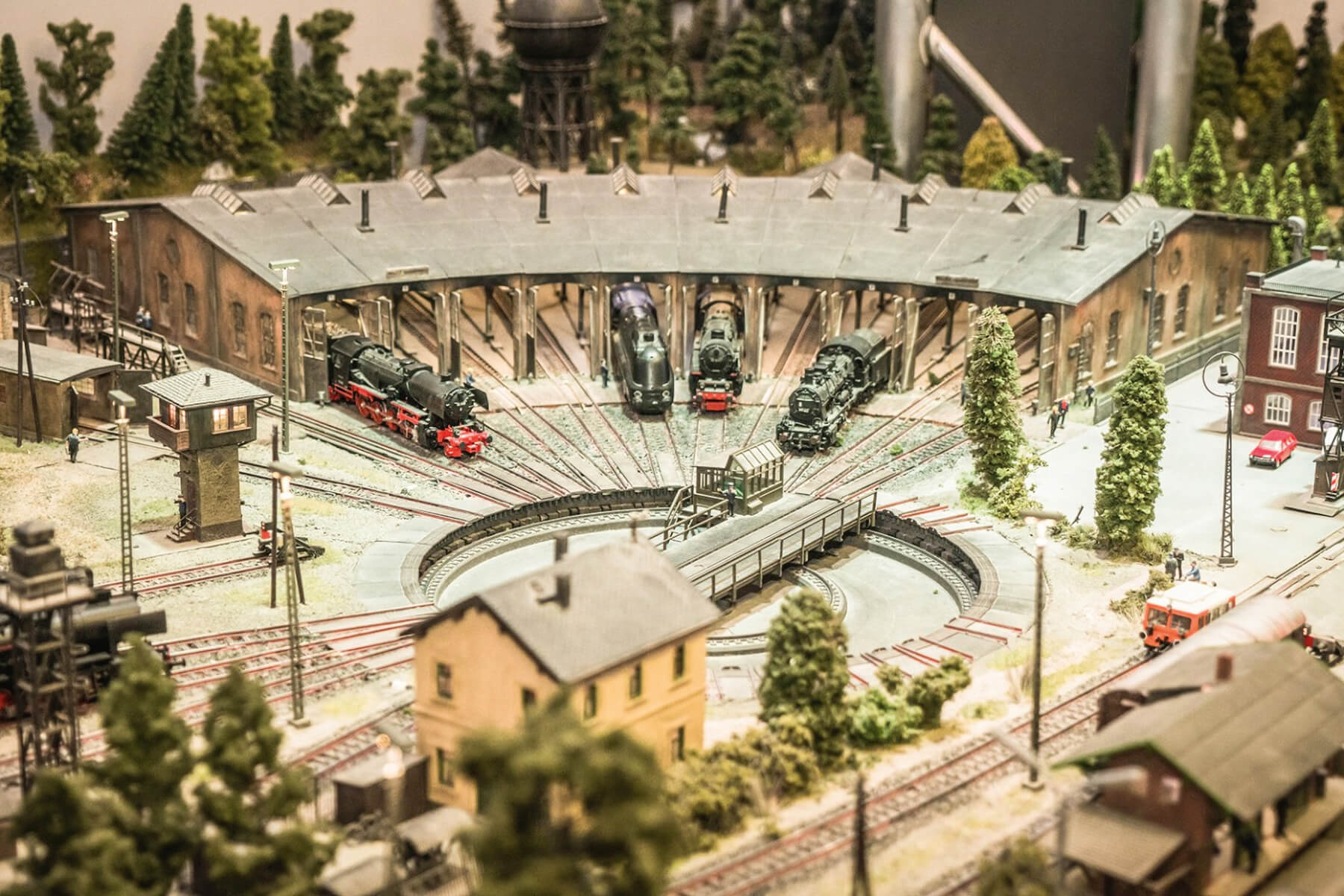 © Modellbahnwelt Schiltern
Modellbahnwelt Schiltern, NÖ

At Model railway world Schiltern, an impressive selection of sights on a scale of 1:87 inspires not only model railway enthusiasts. With hundreds of trains, wagons and thousands of figures, Austrian landscapes are depicted true to life.

Wed – Sun: 10:00 – 18:00, 24.12. 10:00 – 15:00,
25.12. closed, Info: modellbahnwelt-schiltern.at
© Kingdom of Railways
Kingdom of Railways, Vienna

The Kingdom of Railways in Vienna's Prater has big plans: With a target area of 1000 m², one of the largest model railway layouts in the world is to be built. At present, the first stage of expansion with a focus on Vienna can be marvelled at on 270 m².

Mon – Sun (includig holiday): 10:00 – 19:00
Info: koenigreich-der-eisenbahnen.at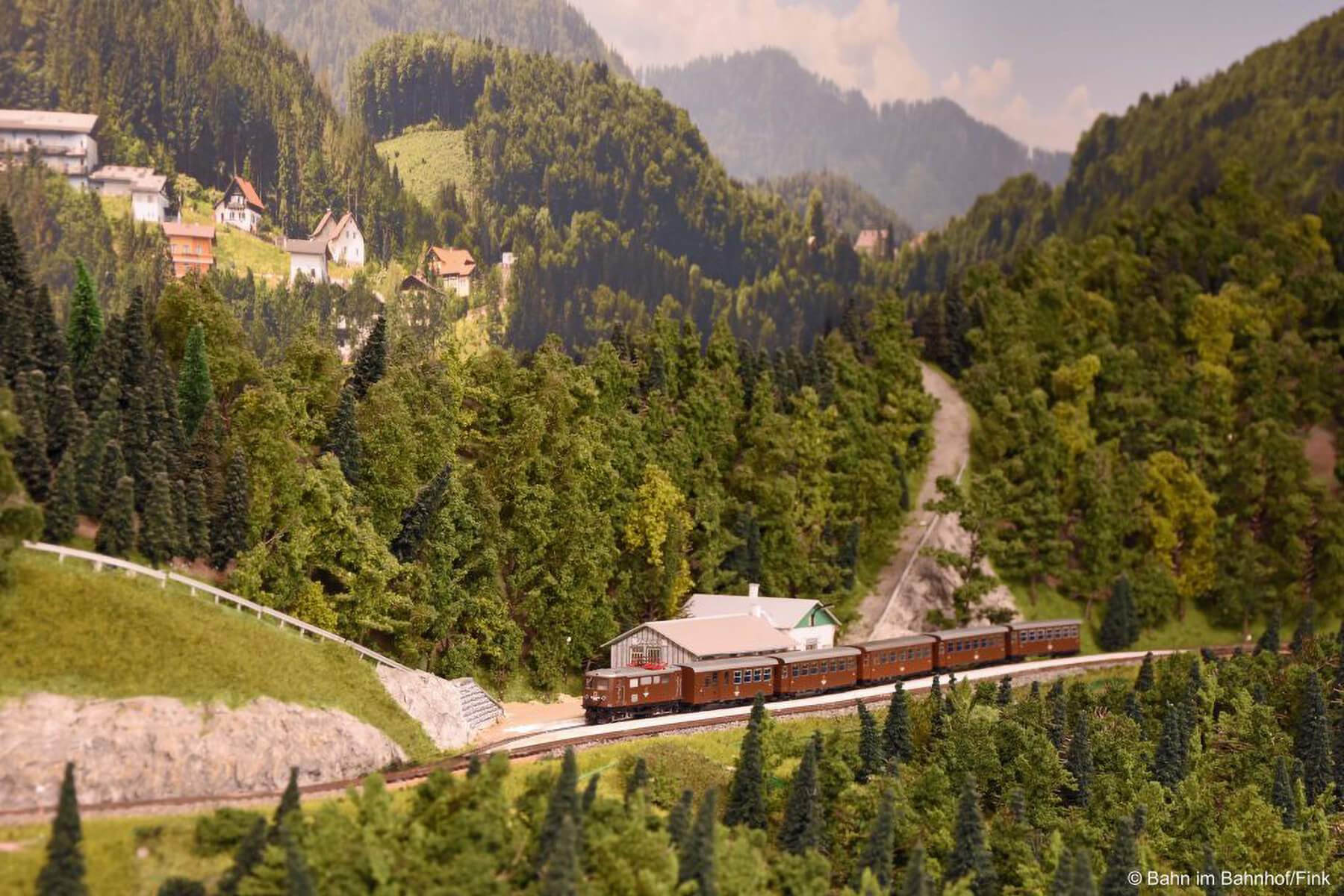 © Modellbahnmuseum Mariazellerbahn/Fink
Modellbahnmuseum Mariazellerbahn, Kirchberg

The "Bahn im Bahnhof" Kirchberg shows the section of the Mariazellerbahn from Laubenbachmühle to Erlaufklause with all stations, bridges and tunnels. Tip: getting there with the Mariazell Railway is an experience!

Satursay, 24 December: 10:00 – 15:00
25, 31 December und 1 January: 13.00 bis 17.00
Info: bahnimbahnhof.at