Positions on Transport, Technology, Innovation


Welcome to the seventh issue
-X
Maybe you wondered about cover of this issue? It is easily explained: Viktor, our new employee, shows the letters E-B-E in his language, Ukrainian sign language. Yes, you read correctly: even in sign language there are hundreds of languages and dialects. A fact that we at EBE Solutions only learned through our employees.
The portrait of our two deaf employees deaf employees Viktor and Kalvin, who have become important members of our of our production. And about how supposed barriers can be overcome together.
As always, I hope you enjoy reading this issue.
Managing Director Laurenz Trunner
and the EBE Solutions team


We understand
each other splendidly!


Kalvin has been working in production at EBE Solutions since 2019. Since an assembly job directly on the railroad track would be too dangerous for deaf people (just think of the whistle signals of the trains!), his workplace has been the production facility from the very beginning. There he has been supported since May 2022 by Viktor, who came to Austria from Ukraine.
Together they keep the production running: Manufacturing of indoor systems, building control cabinets, equipping mounting plates and wiring, preparing and equipping switch houses, manufacturing traffic signal heads and barrier drives, testing all manufactured parts before delivery ... all this is part of the two's job. They communicate in writing (via e-mail and SMS) with each other and the other employees – or with each other in sign language.


137 sign languages worldwide
Most of us know sign language e.g. from live broadcasts from the parliament, but very few know that there are countless languages. Worldwide, according to the journal "Ethnologue", there are 137, about 70 million people communicate in these languages. The dialects are not yet included.  In Austria there are nine dialects, in German-speaking Switzerland alone there are five. Nevertheless, Kalvin and Viktor managed to communicate with each other right away, Viktor (still) frequently uses google-translate. For the entire EBE Solutions team, hiring the two was also an opportunity to learn more about the needs of deaf people themselves. In the meantime, the cooperation between the two has been completely smooth. In the initial phase, they were accompanied by the Witaf association, which has been addressing the needs of the deaf for over 150 years (
www.witaf.at
). It provided interpreters on a case-by-case basis and helped with the first steps. "Of course, there was some need for learning on our part and we had to adapt our processes and our behaviour in places", Laurenz Trunner sums up, and: "As a company, we now benefit from two focused, solution-oriented employees who are fully integrated into the team".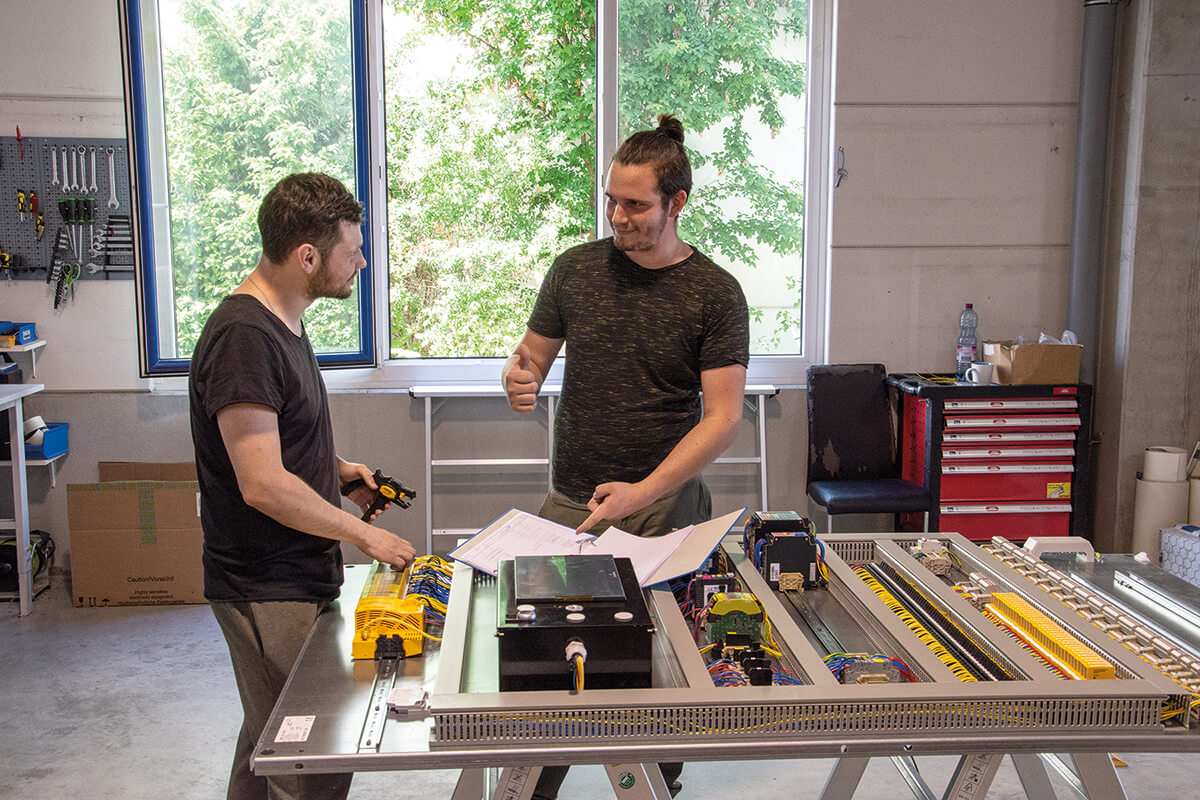 Viktor (left) and Kalvin on the production line
Trip-Tip:


With the steam train
through the Upper Mur Valley

Through our numerous on-site installations, we at EBE Solutions are, after all, used to getting to know beautiful spots in Austria and elsewhere. One of the most beautiful railroad lines now offers an authentic steam train experience again: the Murtalbahn of the Steiermarkbahn.


Together with Steiermarkbahn and Bus GmbH and Steiermarkbahn Transport and Logistik GmbH, Steiermärkische Landesbahnen is an important infra-structure operator and transport service provider. As a regional mobility service provider, Steiermarkbahn makes a significant contribution to the quality of the location and has relied on railroad safety technology from EBE Solutions since 2019. One of its most beautiful railway lines, the Murtalbahn, offers a special experience again from June to September: a steam train with a historic locomotive and lovingly restored wagons runs several times a week on a route of 65 km directly along the river Mur between Unzmarkt, Murau (Styria) and Tamsweg (Salzburg).

Themed trips such as the Schmankerlzug (on July 26) are all about regional delicacies and Murau beer: product tastings on the train and during stops attract tourists and locals alike every year. In any case, we look forward to a summer excursion to the Murtal!
Route info and tickets: www.steiermarkbahn.at

All photos © StB – Steiermärkische Landesbahnen
The route leads through the Upper Mur Valley past idyllic villages.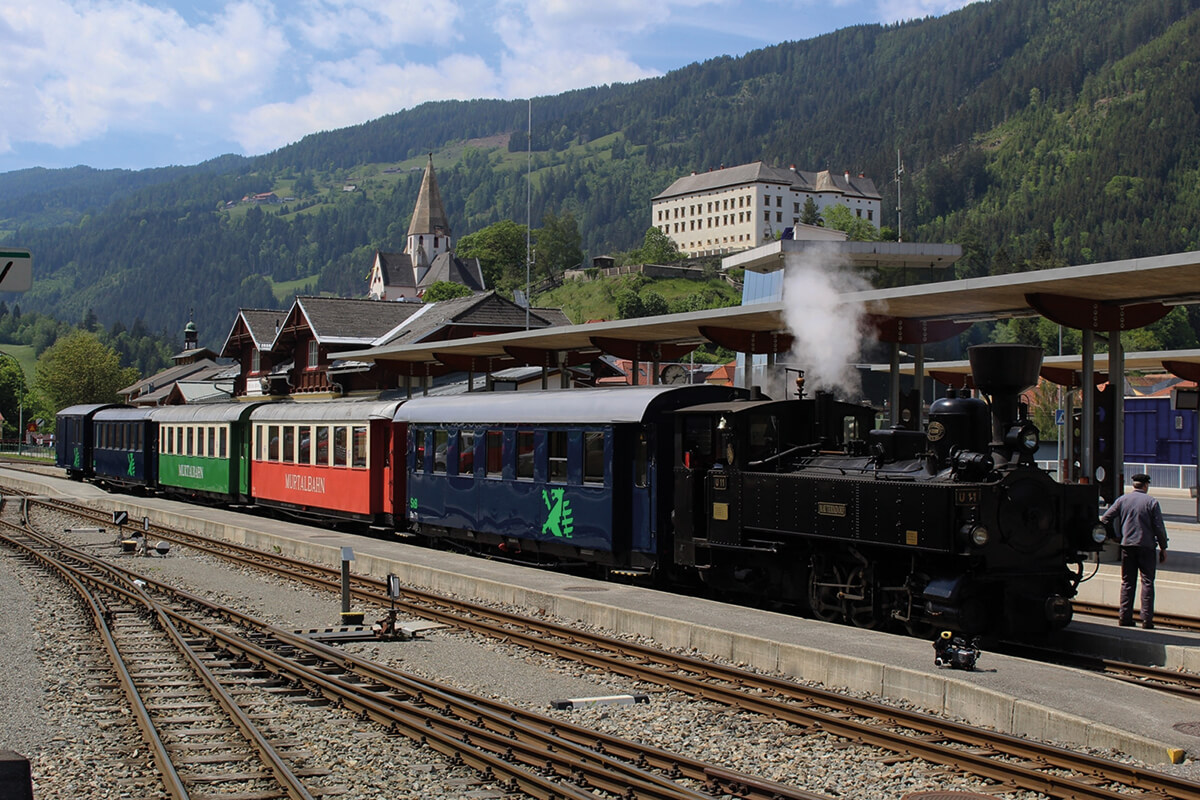 Railroad technology by EBE Solutions ensures passenger safety at Murau station.
Time travel

10 years of
EBE Railway safety technology

EBE Solutions has been providing solutions in the field of safety and interlocking technology for 10 years now. Main railways, regional railways, connecting and industrial railways, but also museum and seasonal railways have come to rely on systems from EBE Solutions.

On the occasion of our 200th installation, which we will carry out in the course of the year, we are looking back on 10 years of EBE railway safety technology in a three-part series.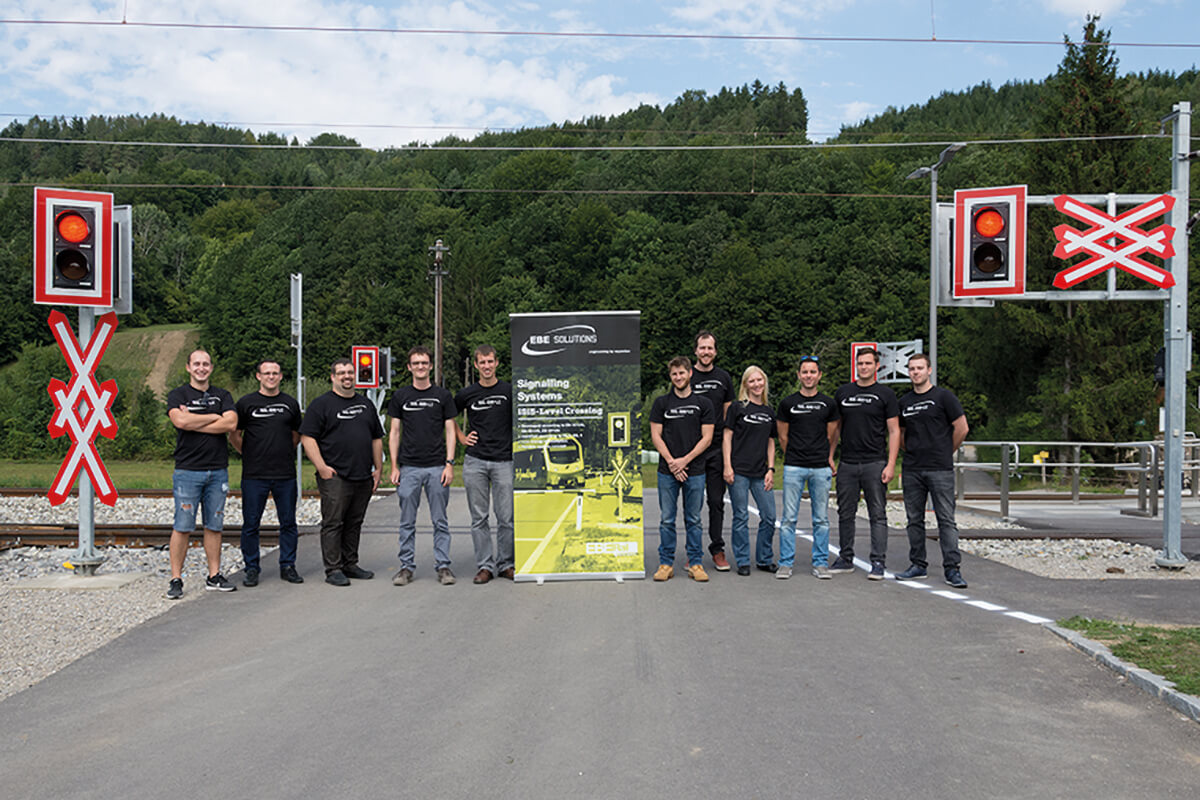 A reason to celebrate:In 2019, we built our 100th railroad crossing in Rabenstein.

2016
We look back on more than 70 installed systems. The system is continuously being developed and enhanced with functions such as remote maintenance and remote access via public networks.


2017
Certified safety: In 2017 we received the SIL4 certification of our ISIS-LC product.


2018
Planning and implementation of our first interlocking with a total of 16 switches and programming of a user interface.
2019
A reason to celebrate: In 2019, we built our 100th railroad crossing in Rabenstein.


EBE Solutions receives a major order from abroad: In Central Asia, a total of 34 units are built.


Since 2019, the Murtalbahn (see article above) has also been using technology provided by EBE Solutions.


EBE Solutions relocates! Since 2019 we are based at our premises at Rautenweg 14.


To be continued…
2019 zieht EBE Solutions um! Seither befinden wir uns am Standort Rautenweg 14.