Positions on Transport, Technology, Innovation


Ekiben:
the taste of travel
Even if there was less travel in Japan this year due to the pandemic: During the "Golden Week" in May, thousands and thousands of Japanese travel on the high-tech trains every year. Not only do they enjoy the proverbial punctuality of the Japanese train service, many of them plan their journey according to the culinary delights along the route: "Bento-hunting" is a national sport in Japan!


The culinary feasts for the eyes have a long tradition in Japan. As early as the fifth century, people used woven straw envelopes, wicker baskets or wooden buckets to transport food. In the Kamakura period (1185-1333), travellers carried cooked and dried rice (hoshii) with them – an early precursor of today's bento. Over the centuries, lacquered wooden boxes became established for storage, and even today the shape of the bento is reminiscent of this tradition. According to tradition, the first ekiben, literally "station bento", was sold at Tôkyô's Ueno Station on 16 July 1885.
But what exactly is an Ekiben?
There is a general distinction between the standard ekiben (makunouchi) available throughout Japan and local specialities. The standards almost always include a combination of steamed or grilled fish and a range of accompaniments such as tofu, vegetables and pickles, all served on a bed of rice. What they all have in common is that the artfully crafted boxes can be easily purchased in small shops, on the platform or on the train itself. In the case of local ekiben, the contents vary from region to region, from station to station.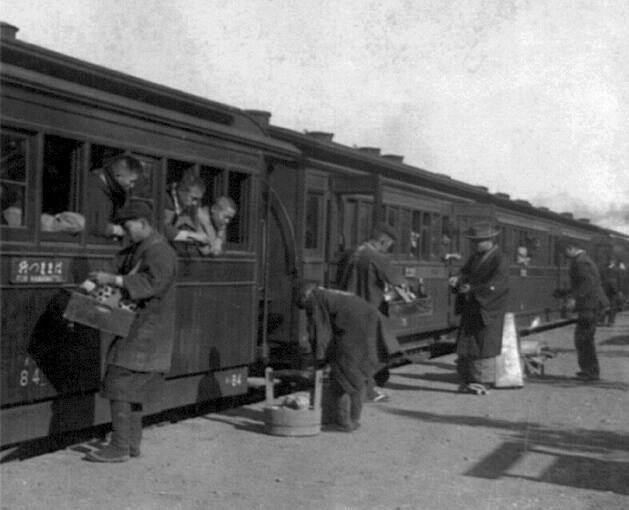 This photograph from around 1900 already shows the mobile supply of train passengers.
Anyone familiar with the Japanese obsession with regionality and seasonality understands why these ekiben have become a cult. They perfectly embody the diversity of Japanese cuisine. Every region has its specialities, some bentos are only available at certain times of the year or at certain stations. This in turn fires the imagination of Japanese travellers. Some carefully plan their stopovers in order to enjoy a very specific speciality. They take high risks, because sometimes there are only a few minutes left during a stopover to buy the object of desire on the platform. Japanese trains know (almost) no delays, so if you don't make it back on time, you will have to wait for the next train. The pleasure begins when unpacking the bento boxes, which are usually wrapped in imaginatively printed paper. Even this wrapping paper is collected by fans. Collector Uesugi Tsuyoshi, for example, owns over 10,000 wrappers and has published books on them. His speciality is antique paper, the oldest in his collection dating from 1886. On the popular Shinkansen high-speed connections, on the other hand, you can buy ekiben in paper or ceramic packaging in the streamlined shape of these trains. Not surprisingly, there are now bento comics, magazines and even annual bento conventions.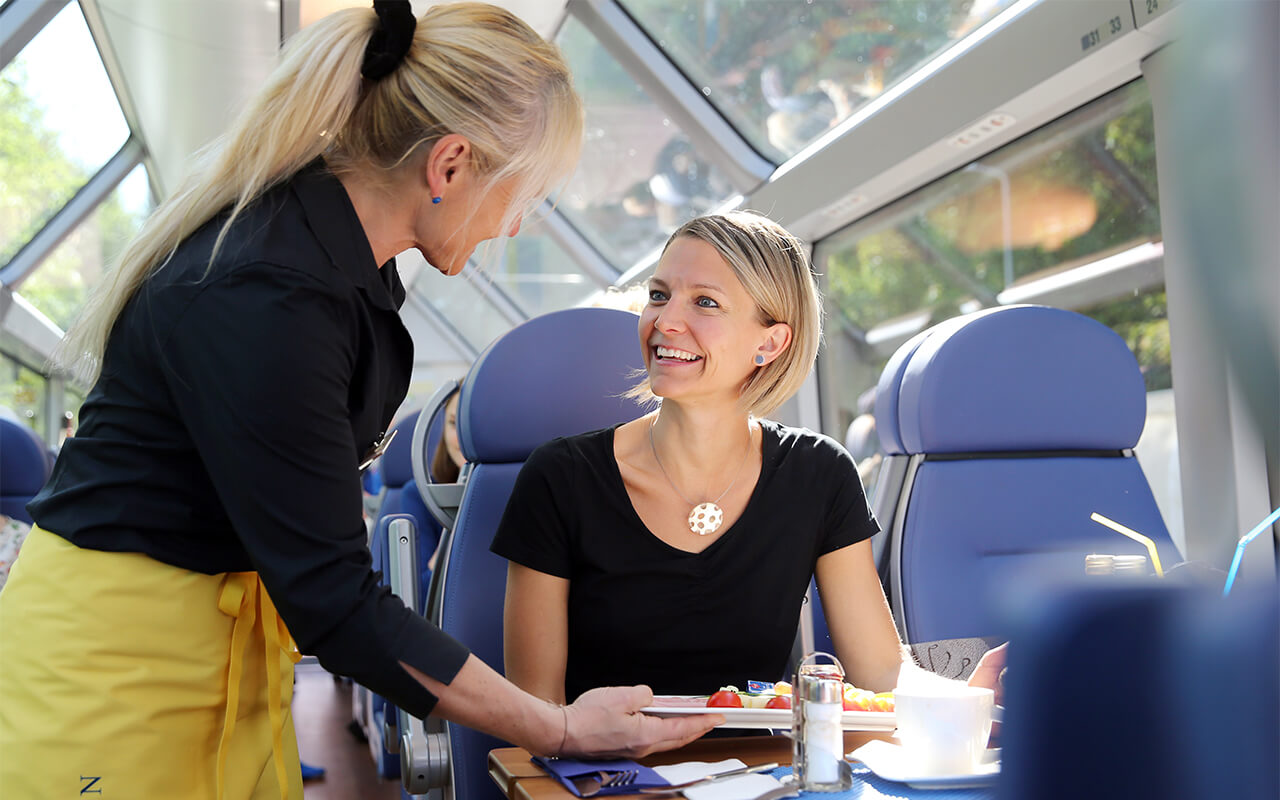 Culinary train rides are be delightful in Austria, too. © NB/Weinfranz
Travelling with all senses
There is something almost philosophical about watching the landscape pass by the train window while enjoying local specialities. Imagine: imaginatively assembled boxes of Vorarlberg mountain cheeses, Styrian beetle beans, a set of apricot dumplings from the Wachau ... all fresh, seasonal and straight from the region. Travelling through Austria has a lot to offer in culinary terms.
Oh-Bento!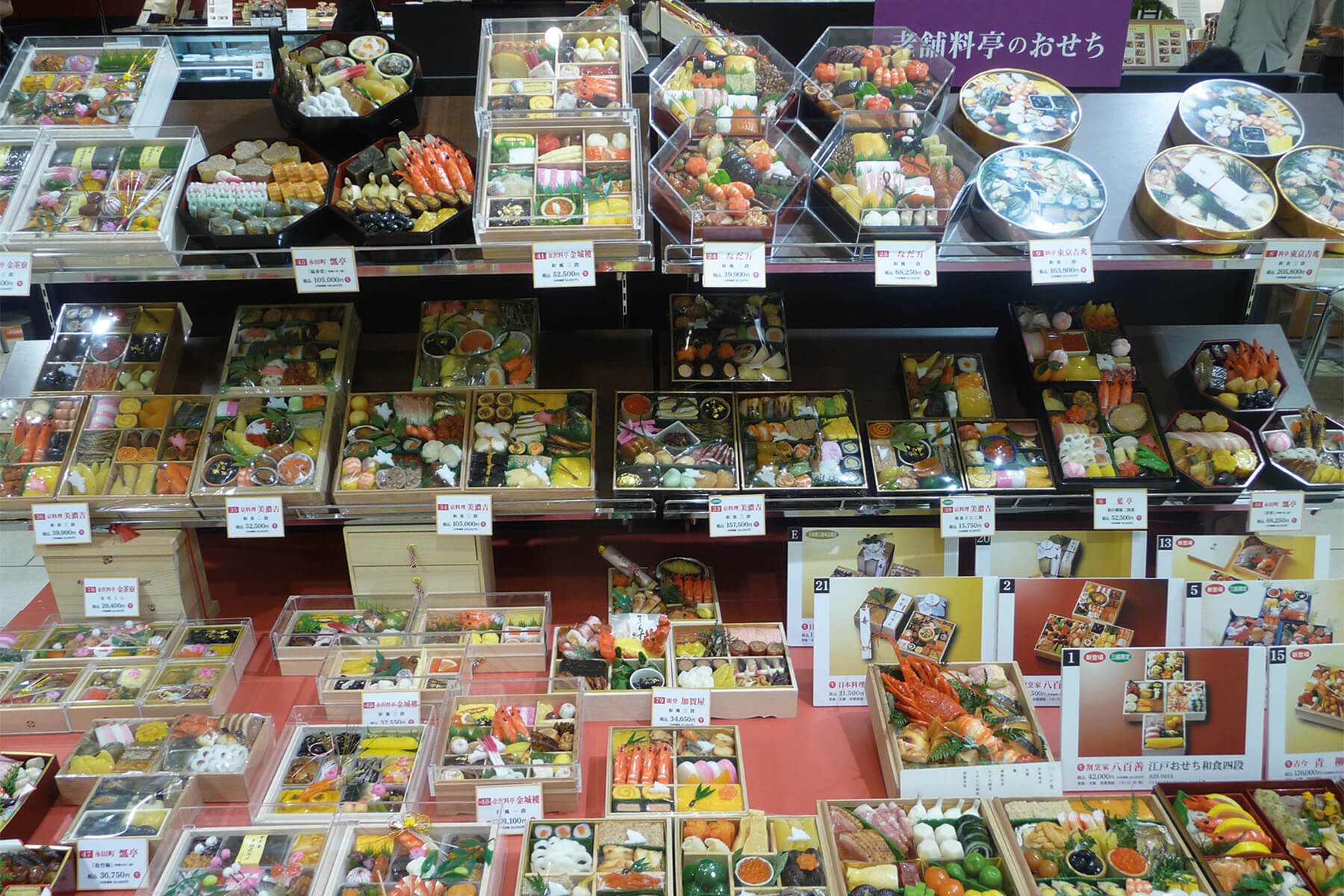 The huge selection of bentos is made easier by displaying artistic models.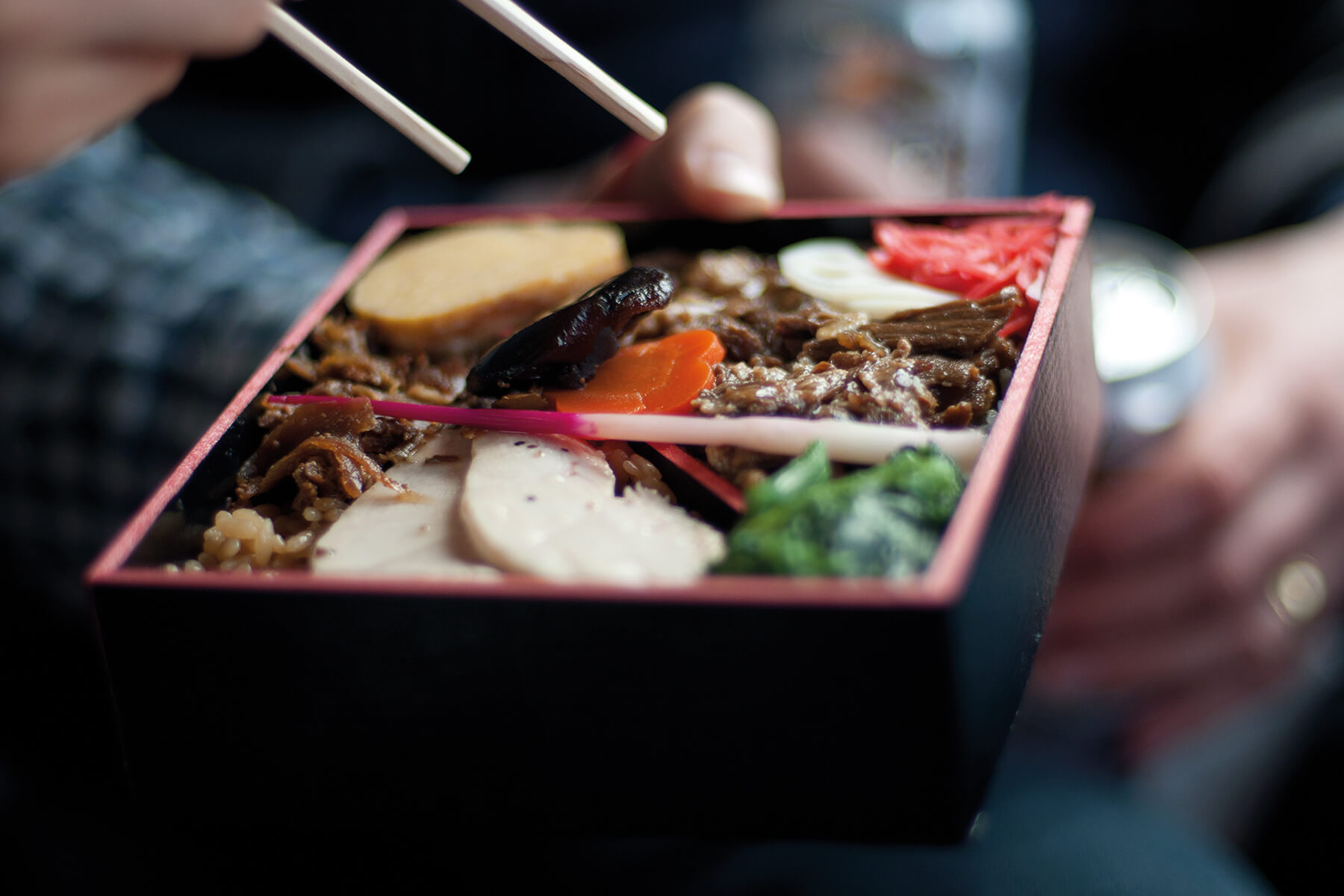 The colourful packaging is also a sought-after collectors' items.
Win a
Japanese dinner at
Shokudo Kuishimbo

For years, the tiny Kuishimbo on Wienzeile was an insider tip in Vienna's Japanese community. Unfortunately, however, it was almost impossible to get one of the few seats at this authentic snack bar. Since 2018, the pianist Hiroko Numata, together with her husband and son, has now been running another restaurant in the 6th district, which also quickly rose to become an insider tip: deliciously authentic Japanese cuisine, the likes of which are rarely available in this country.

We invite you:
Go for a Japanese meal with Laurenz Trunner!

Just write us a few lines about what you think of this issue of our micro-magazine. We will raffle off a dinner at Shokudo Kuishimbo among all the entries.
Just send a E-Mail to This email address is being protected from spambots. You need JavaScript enabled to view it.